FreeWay Delivery Service Ltd.
Hauling and Agriculture Towing.
We move, you relax.
Office hours
Monday – Friday: 8:00AM – 5:00PM
Saturday-Sunday: Closed
Freeway Delivery
Hauling and Towing Services
We provide hauling services into and out of the United States,
covering almost all of North America.
We also provide agriculture towing services in the following provinces and states: Saskatchewan, Manitoba, Alberta, Montana,
North Dakota and South Dakota.
About
Freeway Delivery Service Ltd.
Since Freeway opened its doors in 1994, we've made our customer's needs our number one priority. As a family business we understand the importance of building trust between ourselves and our clients, and are proud to have maintained professional relationships that have spanned more than 20 years.
We achieve this by choosing to only work with reputable, credible and properly insured carriers so we can be sure your cargo gets where it's going safely and on time, every time.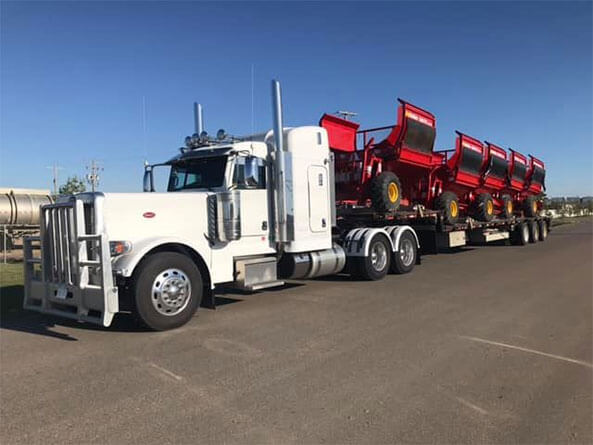 I have dealt with Freeway Delivery for close to 19 years.  I know that I can rely on Freeway Delivery to pick up and deliver when they say.  Their outstanding customer service skills when under extreme pressure are unmatched in this industry.  I know our freight is in capable hands.  Their proven track record has kept me as a forever client!
Rite Way Mfg has worked closely with Freeway Delivery Services for approx. 17 years.  Over the last 10 years I have had the pleasure of working with them personally.  They always get trucks here when we need them, and a lot of the time we give them little to no notice.  Their pricing can't be beat, especially for the service you get when working with them.